By Deborah Ruoho
Beautiful Santa Fe, New Mexico, served as an extraordinary setting for the National Onion Association (NOA) 2017 Annual Convention. Santa Fe is rich in history, diverse in culture and full of entertainment as well as exquisite dining.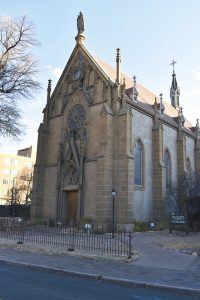 Day 1
The four-day event kicked off with a 5K fun walk/run to the reception. The pathway led participants through downtown Santa Fe. The event was a fun way for all who participated to get some much needed exercise after traveling long distances and to spend time getting acquainted with members, spouses and friends. The temperature was unseasonably warm, making the journey through downtown very pleasant. A reception took place later that evening with continued socializing in a relaxed and comfortable atmosphere.
Day 2
The following day consisted of breakfast, committee meetings, trustee meetings and general sessions/educational presentations. General session attendees were invited to engage in discussion and share their thoughts about important topics such as marketing insights, legislation, regulatory issues, transportation and trade.
Spouses and friends enjoyed the opportunity to make traditional Southwest "Holiday" Tamales at the Santa Fe School of Cooking, and later they gathered for a group picture wearing the aprons they were given for this memorable event.
Day 3
Friday would typically have been a field day, but since it was not planting or harvesting season, NOA planned a unique and interesting day starting with a delicious breakfast and "Focus in Food" panel. The panelists were Jill Gould, senior manager of Blue Apron; Kate Winslow, cookbook author/editor/recipe developer; Guy Ambrosino, food photographer; and Mac Johnson, president of Category Partners LLC. The panelists answered questions regarding current food trends and how these trends are affecting the way the consumer shops. The convenience of grocery shopping from home and ordering fresh and ready-to-make meal kits were among the topics discussed. With such tight and regimented schedules in today's world, people are finding this to be an appealing way to bring fresh produce and other fresh foods home to the dinner table.
Winslow and Ambrosino have combined their talents and efforts into publishing cookbooks with tried, true and trusted recipes accompanied by appetizing photos of meals. Emphasis was placed on the importance of providing recipes for the consumer that are both easy to follow and successful, which in turn will encourage the consumer to continue buying fresh foods and cooking at home rather than eating out.
Another topic discussed was the increasing desire of consumers to know the story behind the foods they are buying and eating. Knowing where the foods come from and how they have been cared for influences the consumer's purchase decisions. Retailers need to be knowledgeable as well about marketing trends, food history and proper maintenance of fresh produce. It is important to present appealing produce for those who prefer the tactile experience of selecting and buying their own produce.
After the panel discussion, the day continued with a tour of downtown Santa Fe and a "dine-around" with informative tour guides who shared some intriguing history about the area. The group visited four restaurants downtown and sampled bites of food featured on their menus, along with some fine wine and tequila.
A reception and banquet ended the evening. Mark Richarte was honored with the "3 or More" award for recruiting at least three new NOA members during the year.
Day 4
The convention wrapped up with a breakfast meeting and crop reports, concluding yet another well-organized, educational and fun-filled conference.
The NOA will hold its 2018 Summer Convention July 18-21 in Bakersfield, California.