Morgan Hill, CA, August 2017 – Next week, Sakata Seed America will host their annual California Field Days in Salinas and Woodland, California. This will be the thirty-first year Sakata has hosted this event, and it continues to grow every year.
"We began hosting these trials in the small field in Salinas back in 1986. Since, it's continuous to expand with our growing infrastructure and has become our largest vegetable event of the year, showcasing the best of Sakata's genetics and serving host to our customers, media, retail and more. We look forward to celebrating forty years of business in NAFTA at this year's trials," explains John Nelson, Sales and Marketing Director.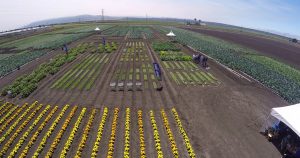 Attend Sakata's Field Days this year and you'll see a few new modifications. Most notably, it will be the inaugural year Sakata will host their Woodland (warm-season crops) trials at their new Woodland Research Station; an investment in land, greenhouses, offices and other facilities slated for completion of the first phases in 2018. To learn more about Sakata's Woodland development, check out their 40th Anniversary video.
For a digital copy, visit Sakata's website; physical copies will be debuted at next week's trials, and available for direct mail thereafter.
If you're a grower, wholesale, retail, foodservice or media professional interested in attending Sakata's California Field Days, please fill out the RSVP form and return to Jiana Escobar (jescobar@sakata.com) ASAP.
California Field Days – Woodland
August 16-18
Warm Crops Featured: Melon, Onion, Pepper, Tomato, Pumpkin, Squash and Watermelon